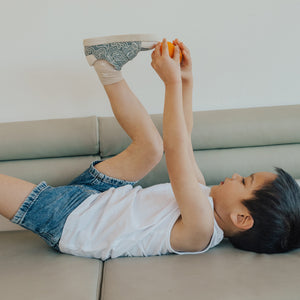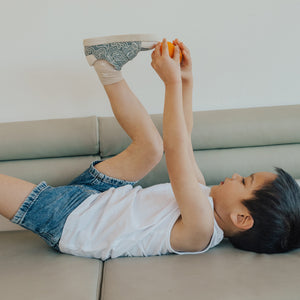 Founded in 2015 by artist and graphic designer Natalie Meldrum, Pretty Brave is a creative footwear brand from New Zealand for little ones and parents with style.

The shoes are hand-made using only genuine, soft leathers and products are tested to European Standards to be baby friendly. With the launch into the toddler market in 2017 and our highly-anticipated Braver 1st Walker Range in 2020, now newborns through to four years can enjoy Pretty Brave.

For more information on our brand visit Our Story.
All of our footwear is carefully designed in New Zealand by our Lead Designer Natalie, who collaborates with a team of podiatrists throughout the process to ensure each of our shoes not only look amazing, but also perform. We are recognised around the world for our original designs, bold prints, lasting quality and iconic packaging.
We work with a small selection of footwear factories in China and Indonesia to create our ranges. We regularly visit our manufacturing partners, and we take care to ensure we only support ethical, child-friendly and non-toxic working environments.

We are working on sharing more information on our manufacturing process coming soon.
Pretty Brave was founded in 2015 by artist and graphic designer Natalie Meldrum. The brand launched with a selection of leather baby footwear or the New Zealand and Australian market.

As our customers grew out of their baby shoes, we evolved to meet the demand and launched the Child range in 2017. In May 2020 we proudly released our podiatry recommended 1st Walker Range.

Pretty Brave is now stocked in over 250 stores worldwide, and are recognised as the go-to for creative footwear for children up to 5 years of age.
At Pretty Brave, we're passionate about sustainability and taking care of our environment. When you make an online order, your shoes will be delivered in an eco-bag which is 100% home and commercially compostable.

The rubbish created by humans every day pollutes our land, see and atmosphere. Recycling simply isn't enough to cope with the waste we product and our plastic problems are seriously in need of alternative solutions. The eco-bag is:
• Home compostable
• Commercially compostable
• Made from plants

Find out more at gosweetspot.com/ecobags
We ship every working day so that you can receive your Pretty Brave order as soon as possible. For information about shipping costs and expected timeframes, please visit Shipping.
We are sure you will love your Pretty Brave shoes, but when purchased online, we do have an easy returns process on our full priced items,
should you not be completely happy with your purchase. To view our returns and exchange policy and see instructions on how to return an item, please visit Returns.
We're committed to being there every step of our little customer footwear journey, offering footwear from birth through to 5 years of age.

• Our Baby Range of shoes, sandals and boots is available in sizes S, M L, XL for ages 0-22 months.
• Our 1st Walker Range is available in sizes EU 19-23
• Our Child Range is available in sizes EU 21-33

We recommend following our Size Guide before selecting the right size for your child.
It's important to make sure you know your children's foot size before selecting the right shoe for them. We have created an easy-to-follow Size Guide to measure your child's foot, so you can be confident that you're choosing the right size. After you have followed the size guide, you can then use our size chart to find the perfect shoe.

Please also read the size notes specific to the style you are wanting, before selecting the right size for your child. 
Our size range within our product offering has been designed to overlap to ensure that we have footwear to suit all development stages. For example our 1st Walker Range will overlap with the larger Baby sizes and smaller Child sizes. If your child's foot falls between these sizes (approximately EU 19-22), we recommend going by their developmental stage.
• If your child is not yet walking: we recommend selecting from the Baby Range. The L and XL in our Baby Styles are designed with flexible, rubber soles, so even if they start to walk soon, these shoes will offer enough support before they move into the 1st Walker Range.
• If your child has just started walking: we recommend selecting a style from our 1st Walker Range. This collection is designed specifically for children who are in the early stages of walking and provides more support than the Baby Styles. The 1st Walker shoes have an easy-to-wear design and bring flexibility, comfort and style to little ones as they take their first steps.
• If your child is a confident walker: you can select from either the 1st Walker Range or the Child Range. Both collections are suitable for confident walkers, the only difference is the shoes in our Child Range provide slightly more support for kids who are always on the go!
We only work with small, family run factories who have acceptable ethical accreditations and are regularly audited to ensure they do not engage in any form of child labour or exploitative working conditions.

Our Director Natalie visits the factories regularly and because we only produce small quantities of our products, we are able to prioritise quality over quantity at every stage of the manufacturing and design process.

We are working on sharing more information on our manufacturing process coming soon.
Pretty Brave shoes are all hand-made from genuine, soft leathers. 
Unlike many brands, our footwear is free of all nasty chemicals (including Chromium, VI, Azo dyes, Formaldehydes) and leathers are tested to conform to strict European Standard EN71-3.
Yes. We partner with podiatrists to ensure our designs are functional and facilitate the natural development of children's feet as they progress through the stages of walking. Our flexible designs, hard-wearing construction and the use of adjustable straps to achieve the perfect fit, give our shoes the podiatry tick of approval.
The smaller sizes in our Baby Range (S, M) have a soft non-slip suede sole to encourage optimum foot
development at these early stages of foot development. They are not designed for walkers however can of course be worn outside to keep little feet warm and cosy.

The larger sizes (L, XL) have a flexible, rubber sole which provide a more robust design for babies who are standing or cruising. However, these styles are designed for mostly inside use, with a small amount of outdoor use tolerated. They are not
designed to get dirty or wet.

If you are looking for a 1st Walker style that can tolerate outdoor use, we recommend our 1st Walker Range.
For a newborn baby, you can choose any style from our Baby Range.

For the softest, most flexible option for the littlest feet, we recommend selecting a style from our Capsule Collection, or Slip-On range.
At Pretty Brave, we don't tend to do large order quantities and many of our popular styles sell out quickly. So if you see a style you like, we recommend acting fast!

It's often not possible to restock, but if you're after a style that is no longer in stock online, you can contact a Stockist near you to see if one near you has the style you're after.

Alternatively, you can contact us and we will see if we can help.
Caring for your Pretty Brave shoes correctly is important if you want them to last. See our Care Guide for detailed information on how to best take care of your child's shoes.
We have a Flagship Store at our Auckland HQ on Apollo Drive. See more information and opening hours here. 
Pretty Brave shoes can be found in over 250 stores globally. Visit Stockists to find a store near you.
If you're interested in stocking Pretty Brave, we would love to hear from you and learn more about your store. Please visit our Wholesale page for contact details.